"Listening to the poems of other writers and group participants stimulated creativity for me at a time when grief made it seems impossible. The safety and artistic freedom in our meetings facilitated self-expression, and much to my surprise, being creative helped the process of healing. More than a year later, it is still helping."
-Bonnie Scot, a former participant in our "Healing Through Poetry" support group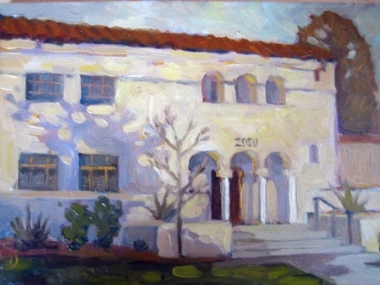 AT HOSPICE OF SANTA BARBARA
Approached slowly with heavy steps –
near the entrance two ginkgo
maidenhair trees stand sentinel
a symbol of peace, symbol of hope.
Once thought to be extinct they now keep watch
at a door where those who suffer grief
are welcomed. Beyond the door
beyond the tears
bereavement is calmed
given voice, given word
surrounded by acceptance.
In time the suffering brought by death transforms.
As the ancient nearly vanished ginkgo
has resilience we who grieve
survive the worst of life
and eventually we thrive.
HSB has facilitated the "Healing Through Poetry" group for more than 10 years. Peri Longo, past Santa Barbara poet laureate, supports individuals in grief to express themselves through poetry.
To learn more about how to register for our upcoming grief support and community education groups, such as "Healing Through Poetry," please contact the intake coordinator at (805) 563-8820 ext. 110. No poetry or writing experience necessary.
All groups are free of charge and donations are gratefully accepted. Please note: space is limited and groups are subject to cancellation based on low registration. Registration must be completed with HSB prior to group participation. No drop-ins please.
If you would like to share about your experience with HSB, please email Trisha Beaudin at TBeaudin@hospiceofsb.org.